Poltergeist II: The Other Side with Diana Lu
Boston area comedian Diana Lu joins us this time to talk about a movie that scared her when she was a kid: Poltergeist II: The Other Side. Here's Diana on Twitter, and here's Plan A Magazine, which Diana writes and edits for, and which also has a podcast about Asian and Asian American culture and concerns.
Image Description: Julian Beck as Reverend Kane, the character that terrified Diana when she was a child.
Here's Diana's summary of the movie:
In Poltergeist II, the little girl gets sucked into the TV AGAIN, and her parents race against the clock to get her back. This time, they have to kill the ghost who keeps stealing their kid, but they have no idea who it is. They discover eventually that it's this olden times cult leader who led some mass suicide in a cave somewhere and they go find and crush his bones to save their little girl.
This gets one plot thread pretty closely, but completely leaves out another major one! Listen to find out what this movie is actually about.
Also, fair warning: this episode is more sad and serious than usual. We talk about the supposed Poltergeist Curse, which is really just a bunch of sad deaths of cast members. One by domestic violence, and three by illness. We also talk in more serious than funny ways about cinematic representation of minorities since this movie has both a little person and a Native American in the cast.
Zelda Rubinstein reprised her role as Tangina the psychic in this movie, but her character was mostly extraneous for some reason, despite being crucial to the first movie. Regardless, Zelda Rubinstein herself was an awesome activist who championed rights for little people, and was on the front wave of AIDS awareness.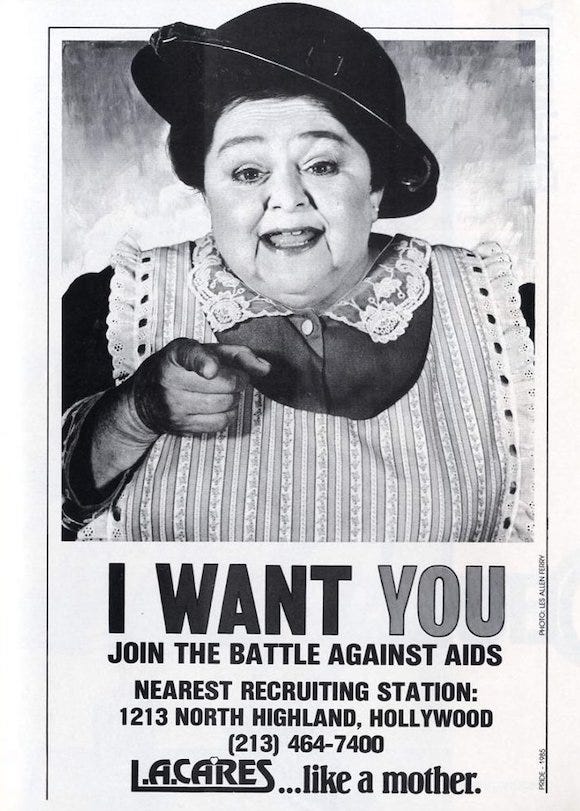 Image Description: Zelda Rubinstein as an AIDS Awareness spokesperson: a motherly caricature of Uncle Sam. The text of the ad says, "I WANT YOU" and "Join the battle against AIDS" with an address and phone number for L.A. Cares.
Zelda Rubinstein did this because someone she loved died of AIDS and she felt very strongly that gay men needed to be warned that it was a danger and that they needed to practice safe sex. She did it even though at the time AIDS was a taboo subject and advocating for gay mens' health did have a negative impact on her career. She was present for the very first L.A. AIDS walk, and was an activist for this cause even before Elizabeth Taylor and Madonna. What a hero!
Will Sampson was a Native American Muscogee (Creek) actor who played the part of Taylor in this movie. He was also an activist who spent his influence on advocating for better Native American representation in movies. Here's a 1975 (or 76?) interview he did about that. The sound quality is pretty low on this one, but the conversation is interesting.
And here's a short (16 minute) documentary about the life of Will Sampson.
The Sampson Brothers are Will Sampson's sons, musicians and dancers who perform with a Lakota hip hop artist. They're also activists and promote a message of healing cultural trauma for Native peoples. Also, they do really cool dances with hoops. Here's an example.
We also talked about Marlon Brando declining his Oscar for The Godfather in 1973 and sending Sacheen Littlefeather (an Apache woman) to represent him at the ceremony. Here's her short and very composed speech (even despite being interrupted by booing!), in which she explains that Brando is refusing his award because of how Native Americans are treated in the film industry, and because of the events at Wounded Knee.
Brando sent a much longer speech, which Littlefeather didn't read because the officials at the ceremony said she could only have 60 seconds. Here's an article about her memories of the experience from 2016. John Wayne had to be physically restrained from pulling her off stage, and this speech tanked her acting career entirely.
… We also talk about the special effects and how Julia was scarred by the tequila scene as a kid. So there's a little fun in this episode …